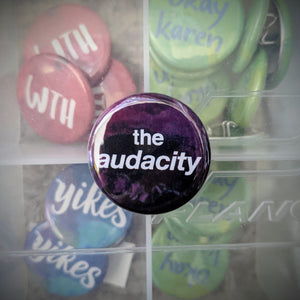 The Audacity - Button Pin
How dare...
- Pinback-style button
- 1.25" diameter
- Actual colors may differ slightly from online photos
Shipping cost note:
- Due to the thickness of the buttons, they only ship with the pricier upgraded shipping w/tracking in a sturdy cardboard mailer. The good news is, shipping cost is the same whether you order 1 button, 4 buttons, 10, or as many as you want - so it is advisable to combine various designs in one order to keep cost-effective. It's like creating your own set, with no limit on designs or amount!